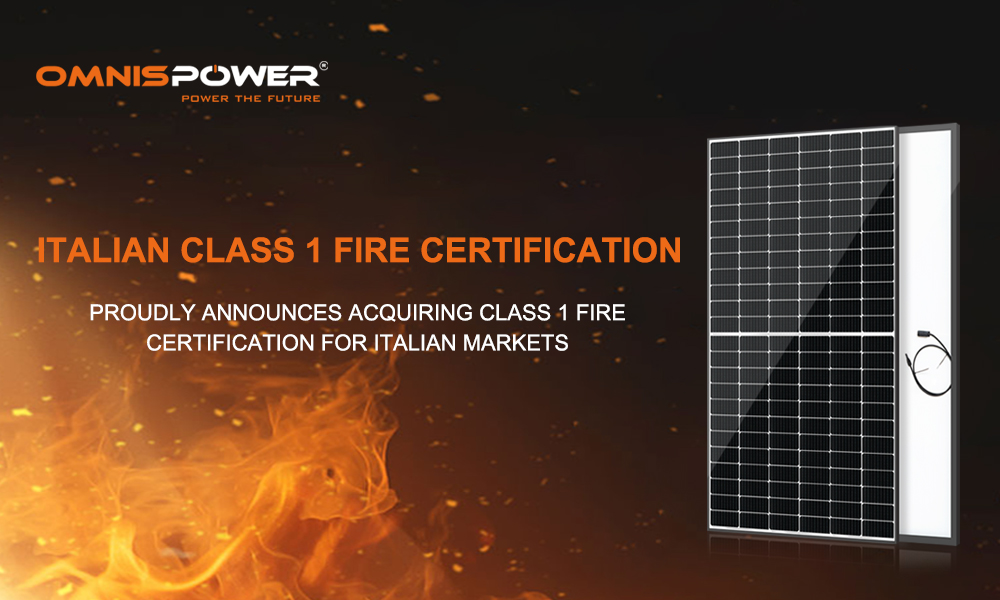 Omnis Solar Power Obtains Italian Class 1 Fire Certification
Omnis Solar Power proudly announces acquiring Class 1 fire certification for Italian markets. It has been able to secure the license after having successfully completed all related and relevant tests.
Fire safety is one of the most critical factors, especially when concerning the development of safe photovoltaic modules. Terms for obtaining the Italian fire safety license are much more complex than the EU standards. For Omnis Solar Power, this meant tireless work and a continuous stream of efforts. We worked with a team of professionals in the specialized laboratory to develop PV modules that meet the strict Italian criteria.
After a series of comprehensive inspections over the last week to determine the fire safety abilities of our PV Solar Modules, the highest classification, "Class 1 fire certificate," was awarded. Solar modules that are Class 1 certified by Italian authorities with outstanding fire safety behavior do not require any additional proof for spreading fire in the roof materials.
Omnis Solar Power offers the ideal PV modules for residential and commercial projects. These solar panels are known to provide excellent energy output, occupy a limited area for maximized installation capacity, and are significantly cost-effective. The all-black model is precisely praised for its aesthetic looks.
Omnis Solar Power's marketing manager commented,
"The Italian Class 1 fire certification is the proof of our commitment towards providing the excellent performance, reliability, and safe PV Modules to the worldwide customers including the Italian market, which has stringent safety criteria as compares to other European nations. As the world is actively looking out for sustainable energy production, we believe Omnis Solar Power's innovative solar panels will deliver true value to the global customers."
With the newly acquired Italian Class 1 fire certification, we emphasize the quality of our PV modules. We are confident that it would lay the ground for Omnis Solar Power to penetrate European markets, such as Italy.
Categories
Latest Posts
22.08.2023

New Branding , New Journey

20.10.2022

Omnis Solar Power Obtains Italian Class 1 Fire Certification

26.07.2022

JOIN Omnis Solar Power AT INTERSOLAR SOUTH AMERICA - 2022!

14.07.2022

Prices are dramatically increased for solar market in July 2022
Products