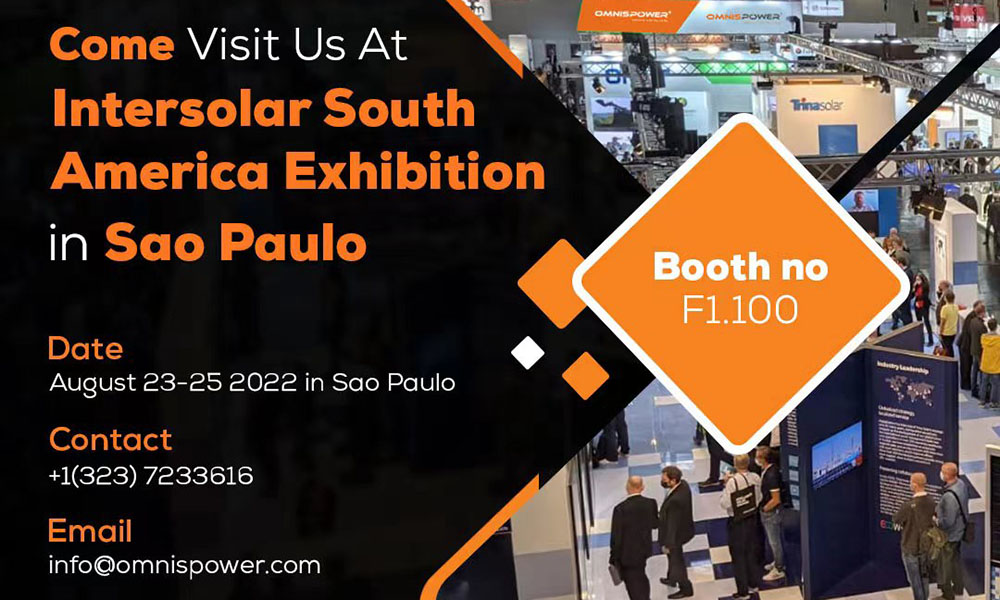 JOIN Omnis Solar Power AT INTERSOLAR SOUTH AMERICA - 2022!
Omnis Solar Power is a leading name in the global solar power sector, which is all set to attend the upcoming 2022 Intersolar South America exhibition from August 23rd – 25th at booth number F1.100. The event will be held at the exhibition grounds in Center Norte, São Paulo, Brazil.
Intersolar South America is one of the largest and most awaited professional solar exhibitions. It is known to attract hundreds of well-known global PV enterprises each year. The event has a glorious successful history in international exhibitions and conferences. It has become a steady platform with infinite opportunities for businesses to share their experience and learn about the industry's latest trends.
Omnis Solar Power has been participating in Intersolar exhibitions for years to maintain consistent brand exposure and cover the South American solar market. In the previous years, Omnis Solar Power has developed its own brand identity and maintained a strong brand image throughout the world. Their top-tier product includes Mono Bifacial, N-type, and Shingled series of solar panels. Omnis Solar Power is committed to the promotion of solar conversion efficient products. With its knack for technical advancement, it is providing its customers with state-of-the-art solar panels. The company's dedication to innovation and contemporary technology is demonstrated by the powerful and efficient products, which will be on display at the stands of 2022 Intersolar South America.
Established in 2010, Omnis Solar Power was created with the objective to develop and provide the industry with technically advanced and most efficient solar products. Our mission has always been to offer the highest quality solar panels and solar modules to end-users across the globe. Our commitment to corporate ethics and responsibility remains intact in our operations. Today, Omnis Solar Power has established itself as the leading player in the solar energy industry that continues to develop more efficient, more economical, and more effective products.
This year we are excited to collaborate and exhibit our products at Intersolar South America 2022. It is the 5th Intersolar event that focuses on photovoltaics, PV production technologies, and solar thermal technologies. It will be a fantastic opportunity for Omnis Solar Power as it continues to focus on the American market while growing in other regions as well.
We are looking forward to seeing you all at the event. Meet our team at the booth and get detailed information about the company and the excellent solar products we have developed. All our multi-technology and multi-application solar modules will be exhibited.
Meet Omnis Solar Power at Intersolar South America 2022 in Expo Center Norte, São Paulo, Brazil, from August 23rd- 25th at booth number F1.100.
Categories
Latest Posts
22.08.2023

New Branding , New Journey

20.10.2022

Omnis Solar Power Obtains Italian Class 1 Fire Certification

26.07.2022

JOIN Omnis Solar Power AT INTERSOLAR SOUTH AMERICA - 2022!

14.07.2022

Prices are dramatically increased for solar market in July 2022
Products