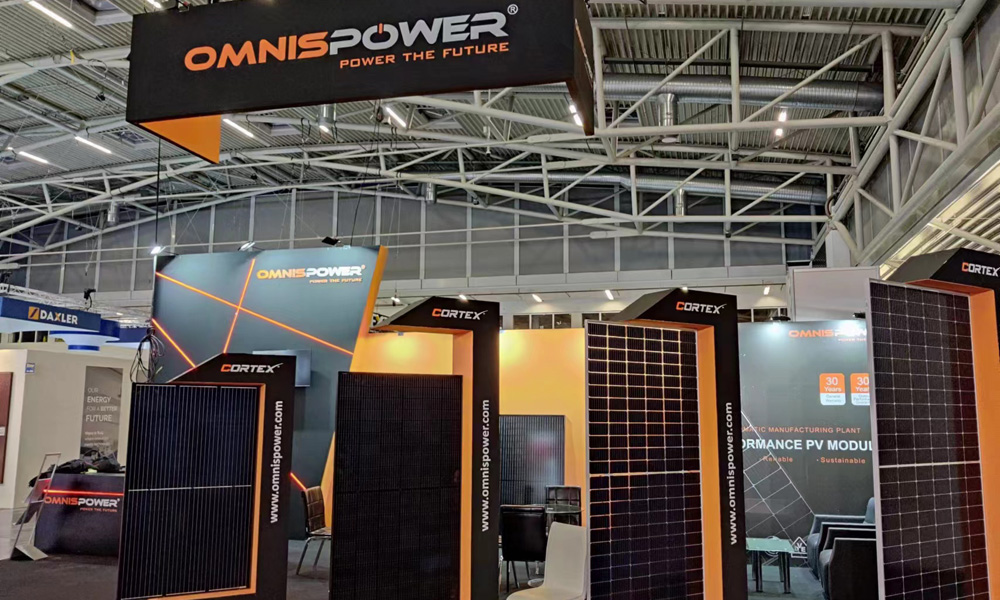 Success of Intersolar exhibition in which we participated
Omni Power attended Intersolar Europe Exhibition 2022 in Germany OR Success of Intersolar exhibition in which we participated
Omnis Solar Power is always devoted to promotion of the energy efficient products, enhancing the R&D of cutting-edge technologies, improving the manufacturing technique and wholeheartedly provides photovoltaic products with high quality, high reliability and high-cost performance for customers with the excellent manufacturing station. To Empower and promote New Energy Solutions, Omnis Solar Power attended the 2022 Intersolar exhibition.
In this year's event, Omnis Solar Power presented a variety of high efficiency PV modules, PV systems and PV batteries with excellent design at the exhibition that gained the attention and recognition of overseas customers. Focusing on overseas markets and brand building, Omni's Power will continue to provide excellent products and services with leading quality and technology to create a green low-carbon era with global partners.
The exhibition was attended by the leading companies and representatives of the industry. Omnis Solar Power informed visitors about its solar products, solutions, and services for a variety of utility, commercial, and residential applications that provides maximum efficiency in comparatively lower costs. Lots of people visited Omnis Solar Power booth in Intersolar Europe 2022. A stream of new and old customers came for business negotiations and more potential customers were greeted by Omnis Powe r team. They exhibited highly-qualified, multi technologies and multi-application modules exhibited in the booth which drew attention of professional audiences in the event.
Omnis Solar Power has been participating in the exhibition for many years to keep the continuous exposure of the brand in the European market as well as covering PV market of Europe. Just like Intersolar has a long history, Omnis Solar Power has also formed its own brand image and maintained a thriving brand vitality in the past years.
About the Exhibition:
Intersolar Europe's motto is"Connecting solar business es". Every year thousands of prominent names from the solar industry from around the world meet in Munich to discuss the latest developments and trends in the industry, explore i nnovations and meet potential new customers. Intersolar Europe is a part of The smarter E Europe, which comprises of four exhibitions, and owns the title of Europe's largest platform for the energy sector with more than 1,450 exhibitors and 132,000m2 exhib ition space. As the most influential professional solar exhibition, Intersolar Europe Exhibition attracts world-renowned solar businesses to interact with each other.
This year, Intersolar 2022 took place in Munich, Germany from 11-13 May. The event's exhibition and conference focused on the areas of solar thermal technologies, photovoltaics, solar plants, and grid infrastructure and energy saving solutions for the integration of renewable energy. Since being founded, Intersolar has been the most important industry event for solar industry manufacturers, distributors, suppliers, service providers and partners.
Categories
Latest Posts
22.08.2023

New Branding , New Journey

20.10.2022

Omnis Solar Power Obtains Italian Class 1 Fire Certification

26.07.2022

JOIN Omnis Solar Power AT INTERSOLAR SOUTH AMERICA - 2022!

14.07.2022

Prices are dramatically increased for solar market in July 2022
Products