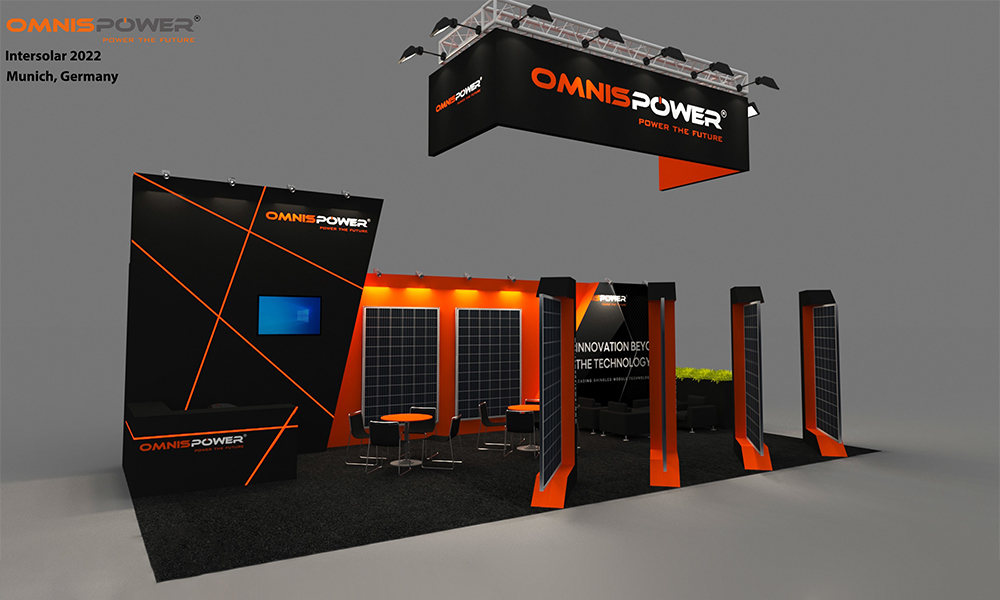 Meet Omnis Solar Power at InterSolar 2022 in Germany!
Omnis Solar Power, a leading global solar power product manufacturer, is honored to announce that we will be exhibiting at the 2022 InterSolar Europe exhibition to be organized at the exhibition grounds in Munich, Germany, from 11 to 13 May.
Omnis Solar Power sales representatives will be available at booth No. A1.120 during the exhibition
It is Omnis Solar Power's pleasure to be part of the world's leading exhibition of the solar industry, which focuses on photovoltaics, solar thermal technologies, and solar power plants.
Omnis Solar Power's cutting-edge solar products, which include Mono Bifacial, N-type, and Shingled series of Solar Panels, the powerful and efficient than the contemporaries, will be on display at the stands, indicating the company's commitment to innovation and modern technology.
Omnis Solar Power began in 2010, with the power of innovation and technology to lead the manufacturing of Solar Products. Initiating as an American qualified PV company, it was our mission to provide the highest quality products to our distributors, expert installers, and end-users across the globe while staying true to our values of corporate ethics and responsibility. Since then, Omnis Solar Power, with an exceptional annual capacity of 3 GW, has expanded its manufacturing roots in Asia, assisting customers all over the globe. It is this commitment to premium quality and superior customer services that today Omnis Solar Power's Solar Products, Solutions, and Services hold sway in sustainable energy production and has partnered with worldwide investors and distributors.
And we are pleased to partner with and host our customers and investors this year -Intersolar 2022. This has been a great opportunity for Omnis Solar Power, as while it expands to other regions and markets, Europe continues to be its focal point. And through this exhibition in the heart of Europe, Omnis Solar Power validate its stance as a firm and committed partner who is always there for its customers with a wide range of tailored products.
All visitors will have a chance to meet with the Omnis Solar Power team to get detailed information about the company and its products. Furthermore, we are going to present the latest product line of our solar modules
Meet Omnis Solar Power at InterSolar in Munich at booth No. A1120. from 11th to 13 this May.
Feel free also to contact us for more information: eu@omnispower.com
Categories
Latest Posts
22.08.2023

New Branding , New Journey

20.10.2022

Omnis Solar Power Obtains Italian Class 1 Fire Certification

26.07.2022

JOIN Omnis Solar Power AT INTERSOLAR SOUTH AMERICA - 2022!

14.07.2022

Prices are dramatically increased for solar market in July 2022
Products