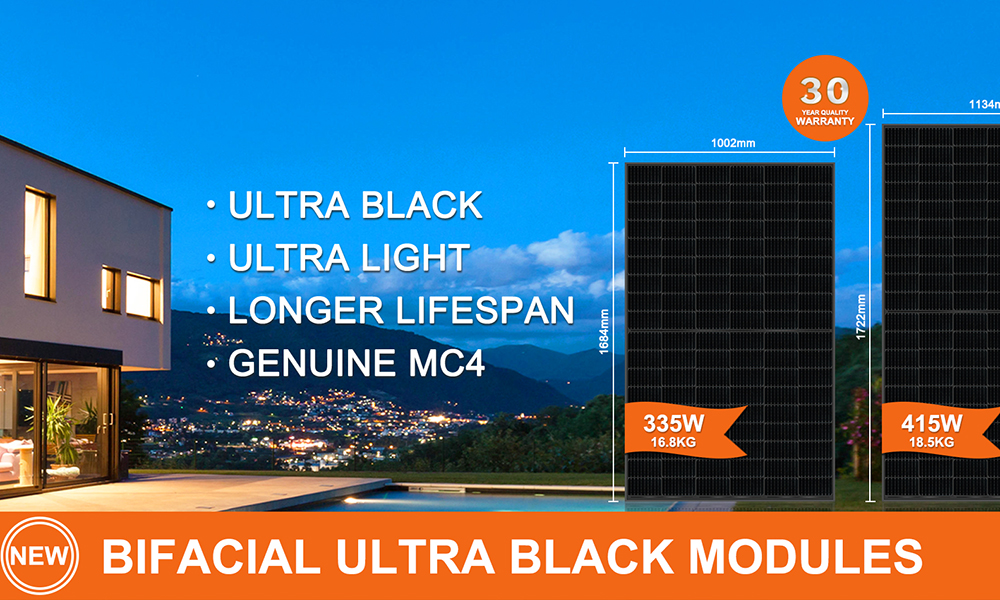 Omnis Solar Power Launches Ultra-Efficient Bifacial Modules with 30 Years Warranty
Omnis Solar Power, the leading solar energy solution provider, introduces next-generation full black Bifacial Modules. The aim is to enhance its smart energy solution range and boost the acceptance of solar energy products throughout the world. The new and super-lightweight solar PV modules are an opportunity for businesses and even the general public to shift towards sustainable power solutions and halt carbon emissions.
New Bifacial Modules are set to bring further enhancements in performance, durability, and energy density. These new modules are super easy to carry on the rooftop because of their ultra-lightweight and offer a longer life span. All black Bifacial Modules provide ultra-high conversion efficiency and come with a banging 30 years of warranty.
Making Solar Rooftop PV Modules More Reliable:
The new Bifacial Modules are an addition to Omni's Power's long-range, highly efficient solar energy solution. Revamping the rooftop solar solutions, this new PV module weighs around 18.5 KG, making it the ideal choice to carry to the top of the building. The latest technology to better trap the light ensures maximum solar energy conversion. It also features MC4 genuine connectors. As a result, users will get more uniform loads and enhanced performance with an efficiency of up to 21.25%.
Aesthetically pleasing, these new Bifacial Modules are ultra-black and simple-looking products that go well with any rooftop setting. Moreover, their 30 years of warranty guarantees their longer lifespan.
Better Power Generation Performance
Omnis Solar Power's PERC mono Bifacial technology provides about 5% to 6% more efficient than other solar panels and about 3% to 4% more energy generation. Mass-produced from 182 mm wafers, the new Cortex P3 modules feature Multi-Busbar (MBB) and half-cut cell technology to reduce internal resistance loss, and the circular solder strip design increases optical gain so that the module has an ultra-high efficiency of up to 21.25%.
Higher Bifacial Factor
Omnis Solar Power's bifacial factor of up to 85% is a great advantage because it allows about 5% to 15% higher energy yield in its lifetime period. A higher bifacial factor also improves its power generation capacity and power generation efficiency.
The new Bifacial Modules are designed with the latest technology to help trap and convert solar energy to valuable electrical energy. These PV modules have efficient features like MC4 genuine connectors to yield higher energy output compared to ordinary modules. It will also improve the power generation capacity and efficiency.
Longer Warranty:
Omnis Solar Power is now offering industry-leading 30 years of warranty against their newly launched Bifacial Modules. These new modules show less than 0.55% annual power degradation in the 30 years and have been proven to work efficiently for more extended periods.
Why the new Bifacial Modules are Looking up:
Omnis Solar Power started with the Power of innovation and technology to lead the manufacturing of Solar Products. The new Bifacial Modules are specifically designed black-frame modules, suitable for commercial and residential rooftops. They intend to help the energy sector by providing efficient and sustainable energy options. They are helping the goal of meeting zero carbon footprints possible. With the improved technology, these PV modules can generate more power, minimize the cost incurred, maximize durability, and lower the investment cost. In the coming years, Omnis Solar Power's cutting-edge Bifacial Modules are set to become the industry's mainstream technology. The technical breakthrough has allowed the company to stay ahead of its competitors in terms of better products and cost.
To find out more, please see: Cortex P3 MONO BIFACIAL ULTRA BLACK DATASHEET
Categories
Latest Posts
22.08.2023

New Branding , New Journey

20.10.2022

Omnis Solar Power Obtains Italian Class 1 Fire Certification

26.07.2022

JOIN Omnis Solar Power AT INTERSOLAR SOUTH AMERICA - 2022!

14.07.2022

Prices are dramatically increased for solar market in July 2022
Products