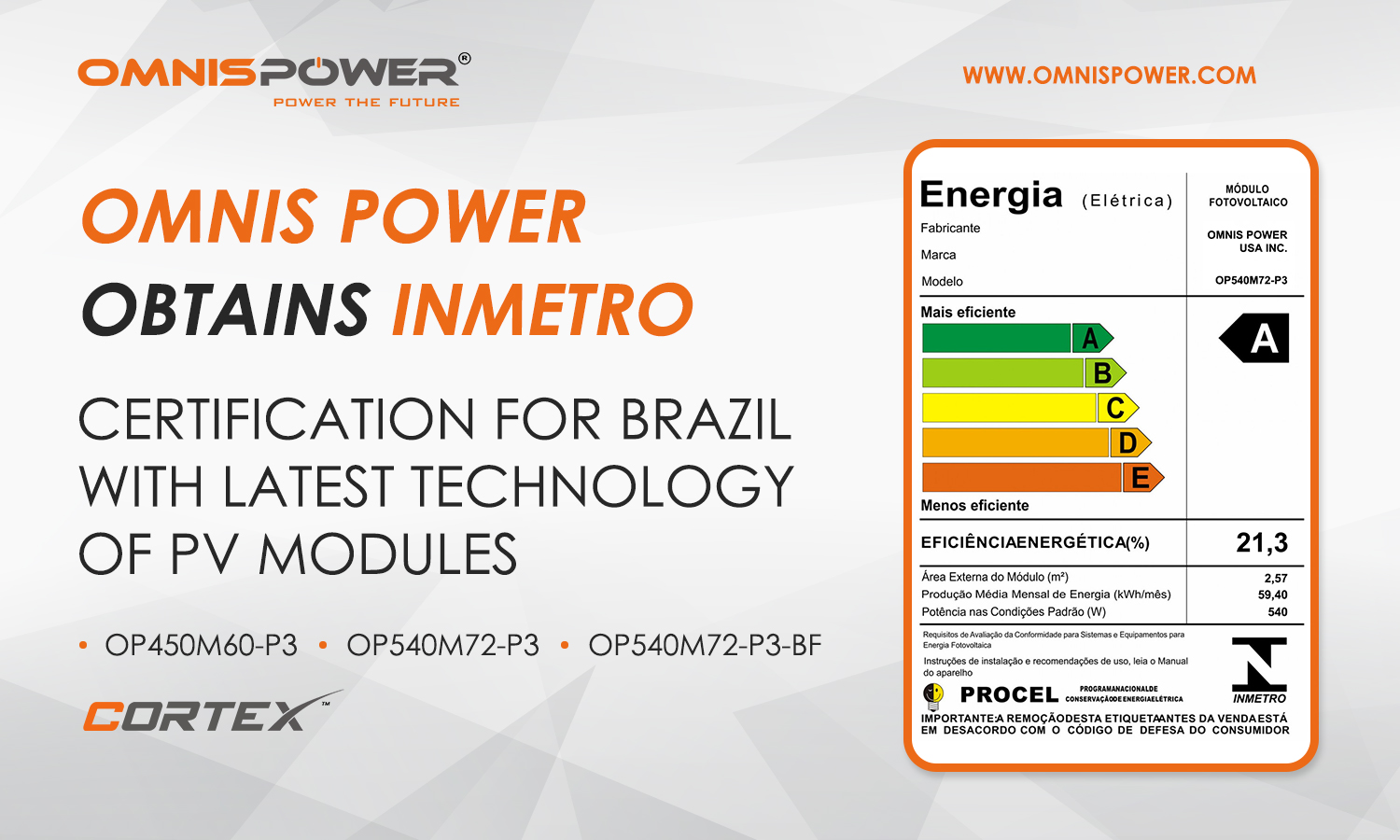 Omnis Solar Power cherries INMETRO Certification For Entering the Brazilian Market.
It has been an honor and a moment of pride to share that Omnispower has been granted INMETRO Certification for photovoltaic modules to ensure the quality for the Brazilian Market. The certificate rating the products in the alphabetical order of A to E is a standardized scale to assess the quality of the product, subsequently placing them in the order from high A to lowest E. And it came as no surprise for our global customers, retailers, and distributors that Omnispower is accorded the highest A rating for its cortex P3 series with 450wp/540w/540w Bifacial Modules.
Indeed, we consider this our achievement and a reflection of our quality manufacturing, innovative technology, and international production standards. Being granted INMETRO certification, an indicator of PV modules' high energy efficiency, further ascertains Omnispower's alignment with Brazilian standards and Ex Tariff regulations for its PV modules.
How Brazilian Market Is Leveraging The Solar Power?
Brazil is a few of the most advanced countries of South America, making a strong footing in sustainable and renewable energies. Its massive investments in renewable energy are attributed to its strategic location, which gives it an incredible level of solar radiation. Being equated on the latitude ranges, Brazil makes the most of its dry and sunny conditions, enabling more and more consumers to invest in solar products, services, and solutions. According to Mordor Intelligence reports, Brazil was LATAM's largest solar market in 2019, contributing nearly 42% of total solar power in South America. And as per the country's latest plan, the goal is to increase capacity from 2.4 GW to 8.6 GW.
What is INMETRO Certificate?
National Institute of Metrology, Quality and Technology (INMETRO) is a Brazilian regulatory agency that assesses compliance requirements of diverse industrial products manufactured or exported to Brazil. This also incorporates the assessment and determination of Photovoltaic modules hoping to get legal access to Brazilian markets.
INMETRO verifies and issues whether the Photovoltaic modules imported, sold, and installed in Brazil are in compliance with national quality and safety standards or fell short of it. According to that evaluation, they then issue the certification to products that meet the standard.
These standards are similar to the IEC (International Electrotechnical Commission). Therefore, photovoltaic modules that are laboratory tested and factory inspected following ISO 9001 tend to have an upper edge over their contemporaries. This has landed as a dual benefit to Omnis Solar Power module that, along with ISO 9001 certificate, now has the nod of INMETRO to expand and lead the Brazilian market of solar products.
Omnis Solar Power has been operating across the globe, having a solid footing in many regions and a vast directory of diverse clients for a decade. Yet this new venture in the Brazilian market with a highly celebrated INMETRO certification marks a new era of a closer and long-term cooperation that Omnis Solar Power has long anticipated.
Categories
Latest Posts
22.08.2023

New Branding , New Journey

20.10.2022

Omnis Solar Power Obtains Italian Class 1 Fire Certification

26.07.2022

JOIN Omnis Solar Power AT INTERSOLAR SOUTH AMERICA - 2022!

14.07.2022

Prices are dramatically increased for solar market in July 2022
Products