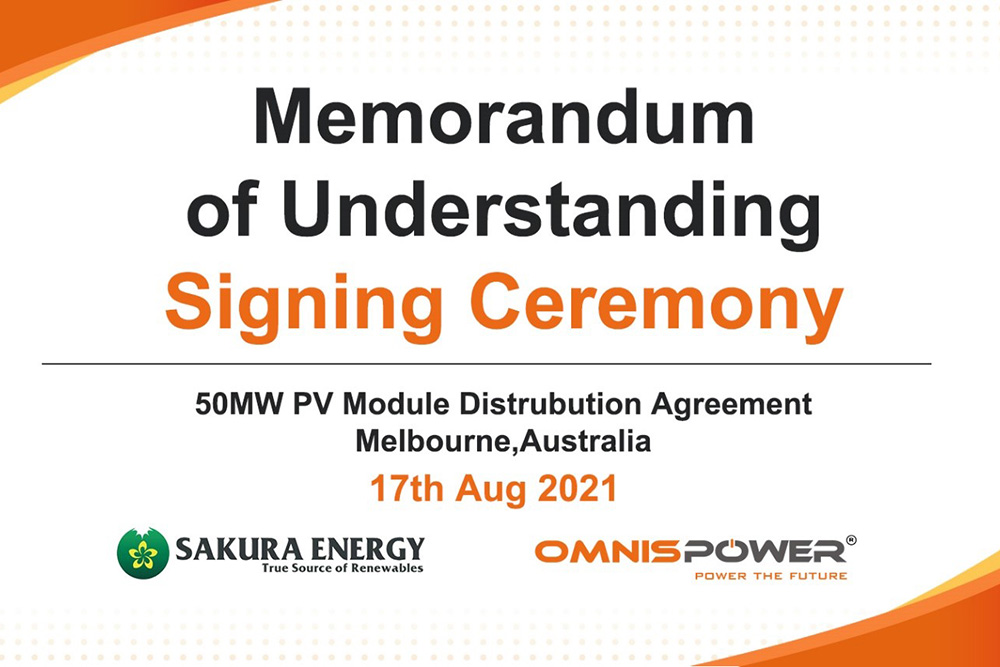 MARKING A DECADE With 50MW IN AUSTRALIA
It began in 2010; Omnis Solar Power started with the power of innovation and technology to lead the manufacturing of Solar Products. Initiating as an American qualified PV company, it was our mission to provide the highest quality products to our distributors, expert installers, and end-users across the globe while staying true to our values of corporate ethics and responsibility. Since then, Omnis Solar Power, with an exceptional annual capacity of 3 GW, has expanded its manufacturing roots in Asia, assisting customers all over the United States, Europe, China, and Australia. It is this commitment to premium quality and superior customer services that today Omnis Solar Power's Solar Products, Solutions, and Services hold sway in sustainable energy production and has partnered with one of the largest distributors of Australian Market- Sakura Energy Australia Group.

As we have grown a decade older, the Memorandum Of Understanding (MOU) marks a historic moment in our journey, giving us the reason to celebrate our expansion globally. It is our privilege to be on board with the largest distributor of Australian Hub- Sakura, distributing our innovative solar technology notable 50 MW solar panels to our Aussie customers. This huge part of our recognition and reputation comes with the state-of-the-art technology deployed in the smart manufacturing of our Solar Products.
At Omnis Solar Power, from research and development to robotic production, we have an advanced mechanism of High Technology Equipment that manages quality-control tests and material authenticity for high-quality products. Reason why our solar panels made with the latest PERC cell technologies is the industry standard. Its efficiency and low degradation rate make it cost-effective and environmentally friendly for our diverse customers. These American designed and approved Cortex Solar panels have an efficiency that can reach 22.6% and an expected lifetime of 30 years, which justifies its reason for being in high demand from our global retailers.
Omnis Solar Power began with the philosophy of bringing change, impacting society, and working towards a sustainable and greener planet. To that end, we make every effort to be open and transparent about our business practices, upholding the standards and responsibility and taking every step that makes us different. Today as we cherish a hallmark MOU, we attribute this to our strong emphasis on quality and a clear vision of innovating technologies for a better tomorrow.
Categories
Latest Posts
22.08.2023

New Branding , New Journey

20.10.2022

Omnis Solar Power Obtains Italian Class 1 Fire Certification

26.07.2022

JOIN Omnis Solar Power AT INTERSOLAR SOUTH AMERICA - 2022!

14.07.2022

Prices are dramatically increased for solar market in July 2022
Products