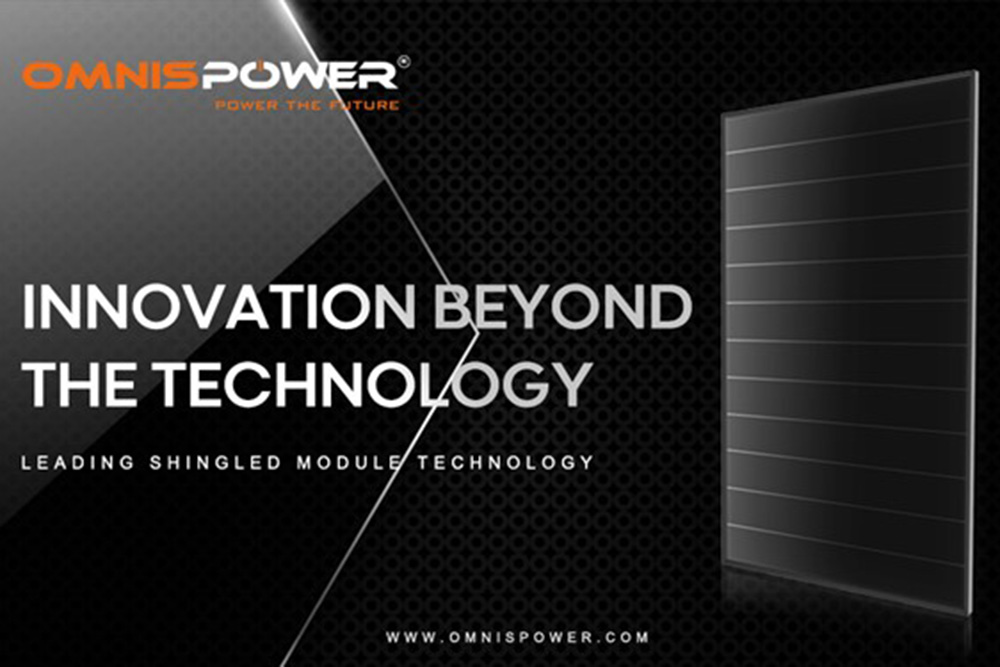 OMNISPOWER LAUNCHED NEW SHINGLED MODULES
Solar technology has been evolving at a greater pace, with new and modern modules, panels, and power capacity entering the market every now and then. These rampant technological advances keep the industry on the toes to adapt and orient as per the latest interventions, yet many could not.
Defying this odd is Omnispower. With its innovative approach and cutting-edge technology, Omnispower has become the industry leader in driving and adapting technological advances of the solar energy system. It has always worked to bring ease to the life of its globally disbursed clients by offering the latest innovation, quality production, and sustainable measures. One such exclusive addition to its list of endeavors is the launch of new Shingled modules. A contemporary technology that is taking over the conventional Solar panels. How? For that, we need to dig deeper.
Conventional Solar Panel Vs. Shingled Solar Panels.
Conventional solar panels use many solar cells laid out throughout the panel with the spaces between them. These conventional modules contain up to 96 cells, electrically connected in parallel by 3-6 copper busbars or ribbons. However, more busbars in the interconnection decrease the solar cell exposure to sunlight resulting in the decreased output of the cell by as much as 3.5%.
On the contrary, shingling solar technology is an exciting development due to higher power densities at the same or lower cost. They do not act as a structural component of your roof. Instead, these shingled solar modules consist of silicon solar cells, cut into 5-6 strips which are placed by connecting their edges using an electrically conductive adhesive (ECA).
It has been gaining the industry's attention because of its unique size, shape, pattern, and potentially more flexibility. Shingled module panels have differently connected cells than conventional ones. In that, no busbars (ribbons) are required for connection leading to less gap and more efficient conductivity between the cells. Furthermore, shingled solar modules are also wired differently. Unlike the usual solar cells wired in series, these shingled solar modules have cells wired in a parallel configuration, giving them a more attractive appearance.
However, this all goes in manufacturing, and there are more benefits in opting for shingled solar modules over the ordinary.
Benefits Of Solar Shingled Module:
Energy Efficient:
Conventional solar panels have the cells wired in series, so when a portion of the solar panel is shaded, it significantly impacts the activity of another bypass diode, resulting in power loss.
On the other hand, shingled solar modules manufactured by Omnispower are wired in a parallel configuration, lowering the number of cells affected by shading. Thus, substantially reducing the amount of energy loss and making it more energy-efficient.
More Aesthetic:
Shingled Module panels are easily distinguished from the rest because of their highly aesthetic nature. They look like the panels of colored glasses, hiding all the circuitry under the overlapped cells. This technology has a sophisticated street appeal-a futuristic approach for building designing and solar marketing.
Better Reliability:
Omnispower shingled solar modules are technologically more robust in terms of preventing busbar failures, mechanical resistance, suitable connections, low cost, and efficient conductivity.
Moreover, in comparison to the conventional solar panel, shingled module panels are resistant to external pressures and failures, making them more resilient and favorable among users.
High Power Density:
Shingled solar panels produce more power per square meter than ordinary ones. They have less space among them and do not require several meters of busbar across the module. This means more and more cells are exposed to sunlight producing more energy and high power density in less space.
Easier Maintenance:
Solar shingled modules are relatively easy to maintain. With minimal periodic cleaning to other debris removals, it delivers the best result unless impacted by severe weather.
Omnispower Shingled Modules:
Omnispower has been developing and trading high-performance, high-efficiency solar panels for over a decade. Its latest launch of the shingled solar module is part of its long-term commitment to supply the industry and its customers with an innovative and high-density module that produces up to 30% more power than a conventional solar panel. These visually attractive and energy-efficient modules use the shingling technique to be more flexible and environmentally adaptable.
Omnispower Shingled Module is designed in a unique way that enables them to increase the power output of residential places significantly. The panels of these modules are carefully divided into sections that allow them to produce energy for up to 90% even if a certain part of the panels is covered with shade. This infusion of high productivity and a sustainable approach makes Omnispower solar panels different from others.
Yet Omnispower solar products, services, and solutions are beyond just this. The recent addition of N-Topcon Modules and the up-gradation to 3+G WATT to our manufacturing facility reflects our never-ending quest to lead the industry for sustainable, better, and more significant.
Categories
Latest Posts
22.08.2023

New Branding , New Journey

20.10.2022

Omnis Solar Power Obtains Italian Class 1 Fire Certification

26.07.2022

JOIN Omnis Solar Power AT INTERSOLAR SOUTH AMERICA - 2022!

14.07.2022

Prices are dramatically increased for solar market in July 2022
Products